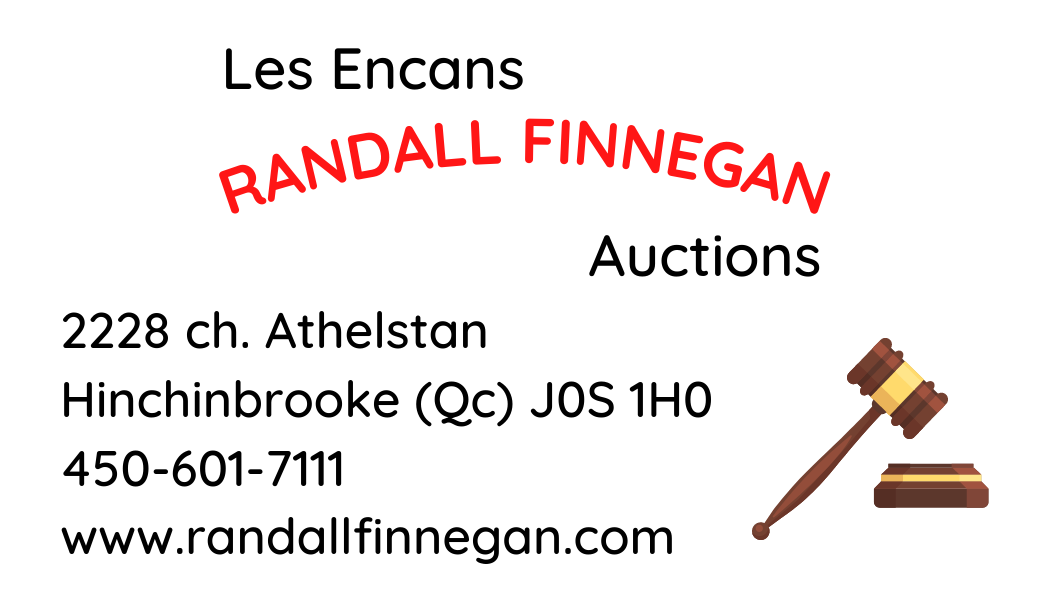 ---
---
Pour les ventes en mode virtuelles, nous utiliserons Zoom Meetings, un courriel avec le lien vous sera envoyé quelques jours avant l'encan.
Pour vous inscrire pour les ventes virtuelles et/ou obtenir votre numéro permanent d'acheteur, veuillez remplir ce formulaire.
Les inscriptions se termineront le jour précédent la vente à midi.
For virtual sales, we will be using Zoom Meetings, an email with the link will be sent a few days prior to the auction date.
To register for virtual auctions and/or to obtain your permanant buyer number, please complete this form.
Registrations will end the day prior to the sale at noon.
---
Août 2022 * August 2022

Dim / Sun

Lun / Mon

Mar / Tue

Mer / Wed

Jeu / Thu

Ven / Fri

Sam / Sat

31

1

2

3

4

5

6

7

8

9

10

11

12

13

14

15

16

17

18

19

20

21

22

23

24

25

26

27

28

29

30

31

1

2

3





Dates en Bleu = Enchères à venir *** Dates in Blue = Auctions to come

Dates en Rouge = Prêt pour visualisation *** Dates in Red = Ready for viewing

= Mise à jour / Update

= Encan virtuelle / Virtual Auction

= Encan en personne / In person auction
Les achats peuvent être payés en argent comptant ou chèque personnel
Une pièce d'identité avec photo sera nécessaire pour tous les chèques.
EXEMPLE : Permis de conduire, etc.
Purchases can be paid by cash or personal cheque.
Photo ID will be required for all cheques
EXAMPLE: Drivers license, etc.
Nous nous spécialisons dans la vente aux enchères de
Matériel de ferme, d'outils, équipements commerciaux, objets de collection,
antiquités, ainsi que des ventes de succession.
We specialize in the auctioning of Farm equipment & Tools,
commercial equipment, Collectables, Antiques, along with Estate Sales.